Best Practices for Managing Pet-Owning Tenants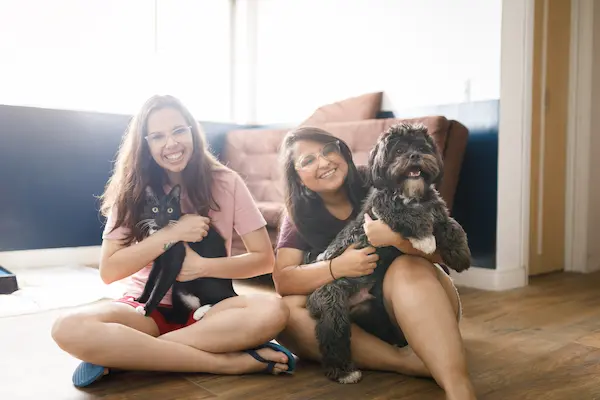 If you are thinking about allowing pets in your rental homes, you're not alone. Many property owners have found many advantages to making their rental properties pet-friendly. However, there are also a number of potential pitfalls you should know about, as well as a few important steps you should take to keep your risks to a minimum. By learning some of the best practices of owning pet-friendly rentals – and how to manage pet-owning tenants – you can confidently reap the benefits of allowing pets.
Research the Regulations
One of the first things you should do before allowing your tenants to keep a pet on your rental property is to develop a full understanding of your state and local regulations. Laws vary widely from town to town, and even from one neighborhood to the next. Some places have restrictions on the type and number of animals someone can keep at a residence, while others go farther and will restrict certain dog breeds, for example. To avoid future legal hassles, it's important to ensure that your pet policy is in line with any applicable regulations.
It's also important to have a good understanding of the Federal Fair Housing Act, which covers service animal situations. If you plan to allow pets anyway, you may not think that it will matter whether the animal is a registered service animal or not. However, it's important to know that you cannot charge a pet deposit or additional rent for a service animal, as you can in other situations. There may be other aspects of your policy that you may need to alter if your tenant has a service animal, so be sure you know how to handle both situations correctly.
Set Reasonable Limits
The best place to begin to layout your pet policy is in your lease documents. Your pet addendum should be clearly worded and thorough, which will help erase confusion and reduce questions later on. Based on the laws and regulations in your area, you should also set some reasonable restrictions about pets to protect your property and to ensure that things go well with the tenant.
Some reasonable limitations you might consider including in your lease are:
Number of pets. You can and should specify how many pets your tenant can keep on the property at any one time. Generally speaking, the more pets in the rental home, the higher the risk of damage.
Pet size. You may also want to put a maximum limit on the size of a pet kept in the rental home. Giant dog breeds, for example, can do a lot of damage very easily.
Species and breed. It's also important to be clear about what type of animals are allowed and, if necessary, list out any prohibited breeds. Some areas have breed restrictions, especially for dogs, or you may just want to avoid certain stigmas about aggressive breeds.
Licensing requirements. You may want to include language that requires your tenant to properly vaccinate and license their pets with the county. In fact, this is a safety measure that will not only help your tenant recover their pet if it wanders off, but can help protect you from liability as well.
Visiting pet policy. Some pet-owning tenants may invite other pet guests to stay, either briefly or for longer periods. In general, it's best to limit the pets on the property to those owned by your tenant, even for just one night. It's important to be clear about whether visitors can bring pets, and how long they can stay.
"Train" Pet-Owning Tenants
Just because your tenants may own pets does not automatically mean that they are good pet-owning tenants. It's best not to assume what they do and don't know, especially if you're not sure if they've had pets before. For this reason, it's a good idea to take time to educate your tenants about the expectations and responsibilities where their pet is concerned. You can and should include language in your lease that lists these expectations out for them, but sitting down and going over it in person tends to be much more effective.
A few of the expectations and responsibilities you should consider including in your pet policy are:
Maintain control. Explain that pets must be leashed or secured inside the home or yard at all times. Also, explain that your tenant is responsible to address excessive barking or other nuisance behaviors.
Pet waste and damage. Make sure your tenant understands that it is their job to clean up after their pet, including any damage that may occur inside or outside the rental property and on neighboring properties, as well.
Flea-free policy. Upon move-in, you should ensure that your rental property is free of fleas and other pests. Include a policy that requires your tenant to return the property in the same condition – flea-free – when they move out or pay for the required flea removal service.
Chained pets. Tenants may sometimes leave their pets outside for long periods of time, which is unsafe and unhealthy for the animal and a liability for you. Consider adding language to your lease that prohibits keeping animals chained outside, especially while the tenant is away.
Unattended pets. Similarly, you may want to help your tenant understand that it is not okay to leave their pet alone inside the house for long periods of time, especially overnight. Unattended pets can become noisy or destructive, both of which may result in problems for you and for your tenant. Explain to your tenant that if they plan to be away overnight, they should arrange to have their pets cared for by a friend or family member or take the pet to a daycare service.
Renter's insurance. It's essential to require your tenants to obtain renter's insurance that will cover pet accidents or damages, including dog bites. In the event of an incident, this will help reduce your liability and cover the cost of medical care or property damage.
Finally, one of the best ways to successfully manage a pet-friendly rental home is to make frequent, positive communication with your tenant a priority. By keeping communication friendly and open, you can increase the chances that your tenant will come to you with questions or issues about keeping a pet on the property. This can help you avoid problems and fully enjoy all of the benefits of owning a pet-friendly rental.
Do you have questions about allowing pets in your rental property? Please contact your local Real Property Management office for more information.
We are pledged to the letter and spirit of U.S. policy for the achievement of equal housing opportunity throughout the Nation. See Equal Housing Opportunity Statement for more information.
Get the Neighborly App
In addition to Real Property Management's expert skills in managing your rental property, you can utilize Neighborly's other brands to maintain and enhance your home. Use the Neighborly App to get connected to local home service professionals. Download and receive offers only available on the App.
Depending on current health and safety regulations in your area, some of the services mentioned in this post may not be available. Neighborly service providers will follow the latest health and safety guidelines provided by the local and state governments. Please check with your local Neighborly service provider for details at the time you need service(s).
Download It Today
Check out these other helpful stories
Get an assessment from your local
Real Property Management
office.