Customer Profile: A Likable, Workable Relationship with Real Property Management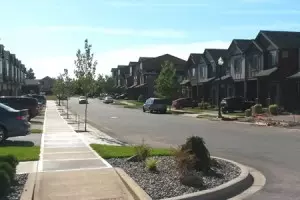 Woodridge Park, managed by Real Property Management Vancouver in Vancouver, WA.
After buying 20 townhomes in December from a troubled builder in Vancouver, Washington, Steve Zimmerman, a former building contractor and current property investor was looking for a company to manage his new investments.
Steve had no interest in managing the properties primarily because he didn't want to deal with the people part of managing rental homes. "It's just not something I really want to deal with – the challenge of getting the right people into the units because they have to be occupied," he said. "Overall, I don't want to deal with getting people in or getting them out. The people relationships part is something I don't enjoy."
To solve this problem, Steve hired Real Property Management Vancouver to take care of the properties and has since been more than satisfied. "From the very beginning the Real Property Management Vancouver team was likable and workable and the relationship has been working ever since," he said. "They have provided everything we need and want and they are very easy to work with. We are satisfied with where we're at right now."
In the past, Steve and his business partner have dealt with problem tenants who failed to pay rent or left their units in sub-par condition. Steve has been impressed with Real Property Management's screening process, which includes background checks, and credit and criminal checks to evaluate prospective tenants. "They hit it hard to get people into the units. Tenant screening is thorough and professional, and we've had good reliable tenants so far. Helen, the Leasing Agent, does a great job at filling the units fast using their network of advertising services," says Steve. Since hiring Real Property Management Vancouver, Steve hasn't had any issues with tenants.
Looking to the future, Steve's company plans to invest in additional properties to add to their portfolio. "The investment outlook is very good right now," says Steve. "We're cautious and prepared for the next year and a half." And while Steve and his partner continue to find new investment properties, they also plan to continue working with Real Property Management Vancouver.
Kip and Laraine Fleming, owners of the Vancouver office, couldn't be more pleased to continue their likable, workable relationship with Steve.
We are pledged to the letter and spirit of U.S. policy for the achievement of equal housing opportunity throughout the Nation. See Equal Housing Opportunity Statement for more information.
Get the Neighborly App
In addition to Real Property Management's expert skills in managing your rental property, you can utilize Neighborly's other brands to maintain and enhance your home. Use the Neighborly App to get connected to local home service professionals. Download and receive offers only available on the App.
Depending on current health and safety regulations in your area, some of the services mentioned in this post may not be available. Neighborly service providers will follow the latest health and safety guidelines provided by the local and state governments. Please check with your local Neighborly service provider for details at the time you need service(s).
Download It Today
Check out these other helpful stories
Get an assessment from your local
Real Property Management
office.