Good Service Leads To Repeat Tenant Business
Annabelle survived hurricane Katrina, but lost all of her possessions in the flooding. She moved to Mississippi before settling in California. Five years ago, Real Property Management Platinum in Clovis, California rented a home to this kind, spunky, single woman in her 80s.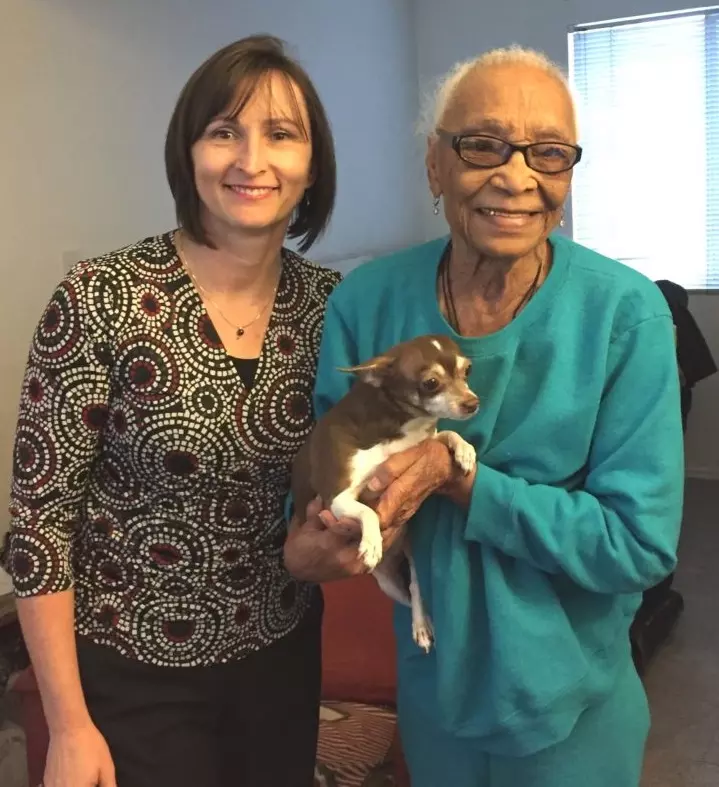 Barbara Godfrey of Real Property Management Platinum with Annabelle and her dog.
Annabelle was happy living with her dog, Pepper, in the home she was renting, but when ownership of the home changed hands and the new owner discontinued using Real Property Management Platinum to manage the property, things began to go downhill. The new owner did not respond to serious issues at the house. There was a security problem that was not fixed, even after the garage door was broken and items were stolen. There was heavy rain that caused flooding onto the carpet inside the house. After a while, the spunky octogenarian decided she had had enough with their poor service and it was time to make a change.
Because she had a positive experience with our Real Property Management office previously, she contacted us and asked if we would rent to her again, said Barbara Godfrey, owner of Real Property Management Platinum. We had a great history with her, and we were happy that we had another property available that suited her needs."
In property management, "It's all about providing great service to both our rental homeowner clients as well as the residents who lease the homes we manage," said Barbara. "At Real Property Management Platinum we work hard to protect our owners' interests and treat everyone the way we would like to be treated. Our clients appreciate good service, which often results in referral and repeat business."
As for the kind, spunky, single woman in her eighties? Barbara says, "Annabelle is happy with her new location and that her neighbors are friendly and look out for each other. She appreciates our property evaluations and especially Steve, from our office, checking in to see if any maintenance is needed and making sure she is taken care of. She will celebrate her 88th birthday in May and told us she never wants to move again at her age."
We are pledged to the letter and spirit of U.S. policy for the achievement of equal housing opportunity throughout the Nation. See Equal Housing Opportunity Statement for more information.
Get the Neighborly App
In addition to Real Property Management's expert skills in managing your rental property, you can utilize Neighborly's other brands to maintain and enhance your home. Use the Neighborly App to get connected to local home service professionals. Download and receive offers only available on the App.
Depending on current health and safety regulations in your area, some of the services mentioned in this post may not be available. Neighborly service providers will follow the latest health and safety guidelines provided by the local and state governments. Please check with your local Neighborly service provider for details at the time you need service(s).
Download It Today
Check out these other helpful stories
Get an assessment from your local
Real Property Management
office.