Grill or BBQ: What's the Difference?
Which summertime activity do you prefer, grill or BBQ? Do you know the difference?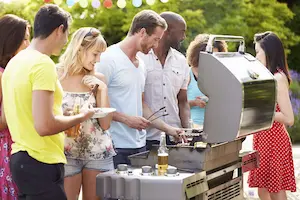 Grill and Barbeque (BBQ)--The terms are used interchangeably to describe a type of food, a way of cooking, and the typical social gathering that often occurs when food is being cooked. Other terms used in this respect are cooking out, smoking, and charbroiling. So which one is right? And what's the difference, if there is a difference?
Grilling: Grilling refers to cooking food over a direct flame, usually your "grill" or even an open camp fire. Hamburgers, hot dogs, chicken, steak and even vegetables—Grilling is fast because it sears the outside, sealing in the juices.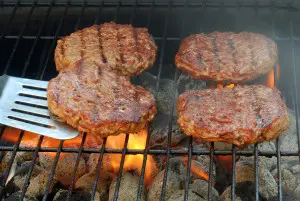 Barbequing (BBQing): Sometimes known as "smoking," barbequing takes much longer than grilling. Using a lower-level heat allows lower quality or fatty cuts of meat, like pork and brisket, to cook slowly which allows the meat to fully develop its' flavor and become extremely tender. The meat generally has to cook several hours to fully absorb the wood smoke and give you that distinct BBQ flavor.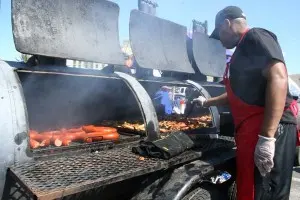 No matter which technique you prefer, grill or BBQ, they are both an art form and quite the conversation starter. Depending on which part of the country you are from, proud chefs everywhere believe their style is best. From Texas to Memphis, Kansas City, the Carolinas, Chicago to Hawaii…They all have their own style and love to compare it with the rest of the country.
Check out these great BBQ and summer grilling recipes!
What's Your Favorite?
We are pledged to the letter and spirit of U.S. policy for the achievement of equal housing opportunity throughout the Nation. See Equal Housing Opportunity Statement for more information.
Get the Neighborly App
In addition to Real Property Management's expert skills in managing your rental property, you can utilize Neighborly's other brands to maintain and enhance your home. Use the Neighborly App to get connected to local home service professionals. Download and receive offers only available on the App.
Depending on current health and safety regulations in your area, some of the services mentioned in this post may not be available. Neighborly service providers will follow the latest health and safety guidelines provided by the local and state governments. Please check with your local Neighborly service provider for details at the time you need service(s).
Download It Today
Check out these other helpful stories
Get an assessment from your local
Real Property Management
office.