Inheriting Your Childhood Home
When Chris's parents died, he and his brother and sister had to decide what to do with the family home they grew up in. They decided to rent it, and Chris was the designated sibling to manage it.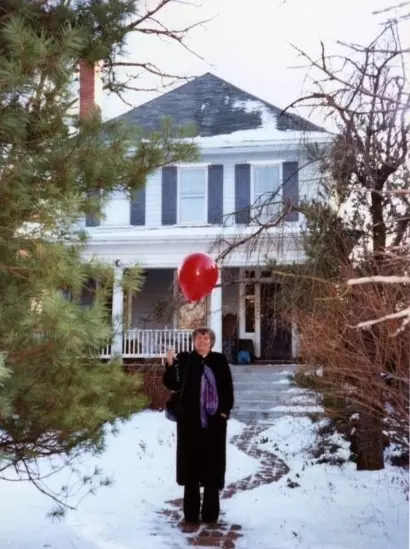 Chris's mother in front of the home
Chris found the first tenant for the main floor, while his cousin was already living in the basement. What began as a good relationship turned sour though, with the tenant making unrealistic demands and threatening to sue for not being a 'compliant landlord' and not having a rental license. One challenge Chris faced was living in Los Angeles yet managing the property in Washington D.C. After several coast-to-coast trips to take care of the home, a mailer piqued his interest one day.
"I got a postcard in the mail from Real Property Management Washington DC and called them up," Chris said. "Tiffany (owner of Real Property Management Washington DC) was delightful on the phone and very knowledgeable about what needed to be done. She met with our problem tenant and recommended a lawyer to begin the eviction process. Fortunately, the tenant moved out prior to going forward with an eviction."
Chris's childhood home is in an area that requires the rental property to be registered. "The property initially was not registered as a rental home however, thanks to Tiffany, it is now registered." "The house needed renovation so we came up with a plan for relocating my cousin, and Tiffany recommended a contractor. We discussed what to do with the remodel, and I flew out and met with them. Tiffany oversaw the entire renovation and was there daily to check on the property during the construction. She made sure things that weren't right, were fixed correctly."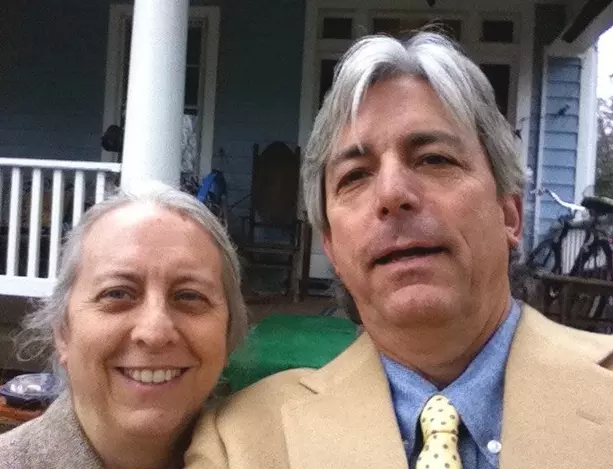 Chris (right) with his sister.
A benefit of using a professional property manager is that they know what clients want. "Tiffany knows the rental market, and what renters like. We took much of her advice and suggestions for the remodel, which included combining 2 bedrooms into a master suite with a full bathroom."
Chris has other rental properties near his Los Angeles home but says managing the DC property from afar was difficult. "Being so far away is just impossible. I couldn't do it without Tiffany. She finds the tenants and handles repairs quickly. Our current tenants are moving out soon, and she already has a new tenant lined up. I'm not able to get out there often, and I trust Tiffany to take care of things. She thinks of the house as 'her house' which I love. She handles every detail – even the gutters are clean."
Tiffany had this to say about working with Chris. "Chris and his wife are a pleasure to work with. After the renovation was completed, we filled it in 2 weeks and increased the rent over $2000 from what he was getting before. That family stayed for 2 years and will be moving out soon, but I already have a new family lined up for 2 years, with a rent increase of $150 per month. They are great people to work for. We christened the new kitchen with them when the renovation was completed, and my husband and I even stopped by to see them while we were in L.A. last year."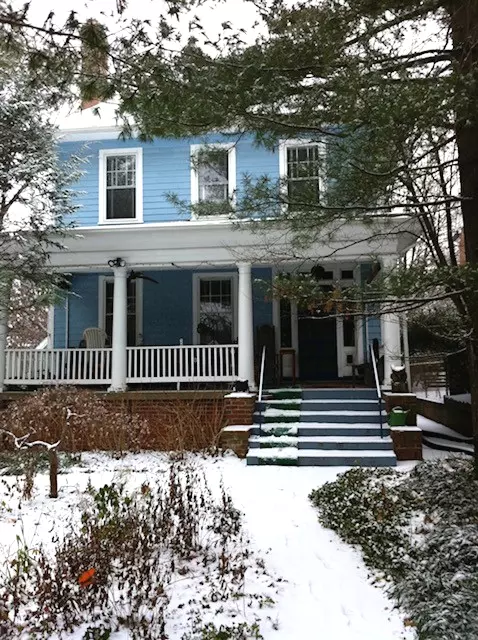 The home in winter.
Determining what to do with inherited property that has sentimental value can be challenging for surviving family members. Chris said, "My sister adored my parents and wanted to hang on to everything after they died. My brother and I are not as emotionally invested, as our parents no longer live there so why hang on to the home. But our parents died in 2008 and we sensed it wasn't a good time to sell the home so therefore we decided to rent it."
"The other solution is to sell it and divide up the money. We have kept it for sentimental reasons, but it's a nice asset to have. It keeps earning money and appreciating so it's a very good investment." "If we didn't have Tiffany we would probably sell it. But I still think it's a good investment as a rental property because there's no mortgage now, and others I've talked with in similar situations regret selling theirs."
Click on the following link to find your nearest Real Property Management office.
We are pledged to the letter and spirit of U.S. policy for the achievement of equal housing opportunity throughout the Nation. See Equal Housing Opportunity Statement for more information.
Get the Neighborly App
In addition to Real Property Management's expert skills in managing your rental property, you can utilize Neighborly's other brands to maintain and enhance your home. Use the Neighborly App to get connected to local home service professionals. Download and receive offers only available on the App.
Depending on current health and safety regulations in your area, some of the services mentioned in this post may not be available. Neighborly service providers will follow the latest health and safety guidelines provided by the local and state governments. Please check with your local Neighborly service provider for details at the time you need service(s).
Download It Today
Check out these other helpful stories
Get an assessment from your local
Real Property Management
office.