Lukas Krause Awarded Rising Star of 2015

Lukas Krause, Chief Operating Officer (COO) of Property Management Business Solutions LLC (parent company of Real Property Management), has been named among HousingWire Magazine's 2015 Rising Stars.
The HousingWire Rising Star program acknowledges the top 40 industry professionals under the age of 40 who have driven their organization and their respective industry forward through their notable accomplishments. HousingWire describes this year's winners as risk takers who act as change agents within their companies through their involvement in systems, processes or products.
"I am honored to be recognized alongside many other incredible leaders in the industry," said Krause. "Real Property Management has achieved important accomplishments in recent years, and I am proud to be a part of its success." As COO, Krause leads our network of franchised locations that manage over $7 billion in assets. He has made monumental changes to the franchise organization, including implementing a new system of operating software, adding new departments to assist franchisees, and developing new operations and procedural manuals. Through his leadership, Krause has helped Real Property Management grow from 164 offices to over 260.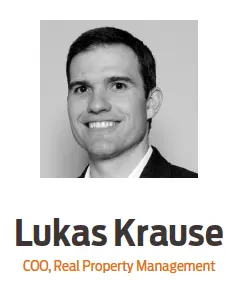 "We are thrilled that Lukas' achievements have been recognized by HousingWire," said Don Lawby, President of Property Management Business Solutions, LLC. "His exceptional leadership and unwavering commitment to focus on what's best for our franchise owners, our property owner clients, and others we serve have proven him deserving of this award. In addition to his valuable contributions to Real Property Management, Lukas has contributed immensely to the property management industry with data-driven innovations, automation and higher professional standards."
Congratulations to Lukas on this recognition!
Rest assured that your property is being managed by the nationwide leader, with solid leadership and integrity from Lukas Krause and the rest of the Real Property Management team.
We are pledged to the letter and spirit of U.S. policy for the achievement of equal housing opportunity throughout the Nation. See Equal Housing Opportunity Statement for more information.
Get the Neighborly App
In addition to Real Property Management's expert skills in managing your rental property, you can utilize Neighborly's other brands to maintain and enhance your home. Use the Neighborly App to get connected to local home service professionals. Download and receive offers only available on the App.
Depending on current health and safety regulations in your area, some of the services mentioned in this post may not be available. Neighborly service providers will follow the latest health and safety guidelines provided by the local and state governments. Please check with your local Neighborly service provider for details at the time you need service(s).
Download It Today
Check out these other helpful stories
Get an assessment from your local
Real Property Management
office.