Married Couples In Business: How Do They Do It?
The American economy is dominated by small businesses. Based on 2011-12 U.S. Census Bureau data, 98% of employers had fewer than 20 workers. Many of these businesses, including within the Real Property Management system, are owned by married couples. We asked 5 married couples in business together about their challenges and how they make it work.
What is best about working together?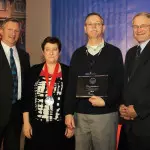 Mike and Vickie Smith
Mike and Vickie Smitha, Real Property Management Metro Detroit in Troy, MI:We get to spend time together, and with our family, working on a common goal of building our business.
Marcus and Emily Phillips, Real Property Management Palm Beach County in West Palm Beach, FL: We make good decisions together and share the same commitment to the business. It is easy for us to communicate with each other without the stress of office politics.
Rob and Tara Child, Real Property Management Sapphire in Hamilton, MT: We love working together! It is wonderful to share successes and strategize together, and we benefit greatly from having each other to discuss challenges, act as sounding boards and offer support for occasional difficult situations. It is so rewarding to grow this together!
Kevin and Dana Clausing, Real Property Management Coastal VA in Newport News, VA: We make our own decisions and we enjoy growing the business and developing the work flow process.
Matt and Betty Foulkrod, Real Property Management Three Rivers in Wexford, PA: We celebrate our successes every day, and also discuss our failures. We can provide instant feedback and help each other to grow in the roles that we are filling.
What is most challenging?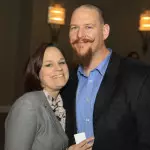 Matt and Betty Foulkrod
Matt and Betty: Our greatest challenge right now is growing pains, but we have our goals and can see the light at the end of the tunnel.
Rob and Tara Child: Work-life balance. We have young kids and many outside obligations so it's difficult to balance our business and professional lives with all our other responsibilities.
Marcus and Emily: Learning to shut off running the business during family times can be challenging.
What advice do you have for couples considering working together?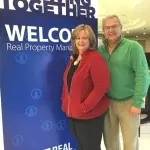 Kevin and Dana Clausing
Kevin and Dana: They need to be very good friends; if not, it can put a strain on the marriage. You have to know each other's strengths and weaknesses, and honor and respect each other.
Matt and Betty: Make sure to divide the work load evenly. It is imperative that each person has a clearly defined role and sticks to it.
Mike and Vickie: It is important to determine roles and responsibilities very early on to utilize skillsets and avoid conflicts.
Thinking about becoming self employed or going into business with your spouse?
Learn more about franchising by clicking here!
We are pledged to the letter and spirit of U.S. policy for the achievement of equal housing opportunity throughout the Nation. See Equal Housing Opportunity Statement for more information.
Get the Neighborly App
In addition to Real Property Management's expert skills in managing your rental property, you can utilize Neighborly's other brands to maintain and enhance your home. Use the Neighborly App to get connected to local home service professionals. Download and receive offers only available on the App.
Depending on current health and safety regulations in your area, some of the services mentioned in this post may not be available. Neighborly service providers will follow the latest health and safety guidelines provided by the local and state governments. Please check with your local Neighborly service provider for details at the time you need service(s).
Download It Today
Check out these other helpful stories
Get an assessment from your local
Real Property Management
office.