Modernize an Outdated Property to Boost Your ROI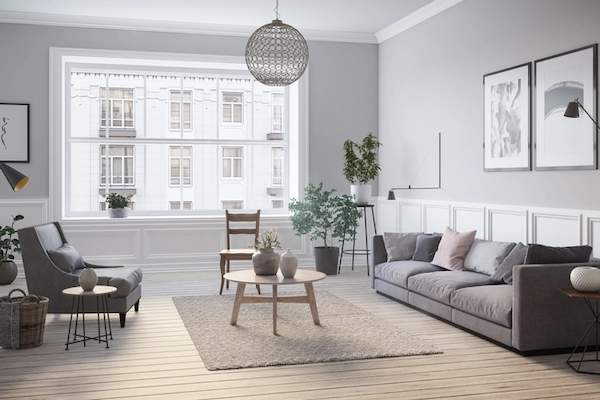 In such a competitive rental market, it can be difficult for older homes to compete against modern updated homes, particularly if an older home requires certain updates. The professionals at Real Property Management work with property owners to ensure a maximum return on investment, including making upgrades in older homes that create a more modern look and feel and create a stronger appeal to potential residents.
Go Bright. The modern look and feel are all about light and space. To make your rental's interiors look better, use light, neutral paint for walls and trim with small blasts of bright color as accents. Walls are backgrounds, don't try to make them the star of the room. Avoid using too many colors at once – a single accent door or wall is usually sufficient.
Open It Up. If your older rental home has a lot of walls dividing the main living areas, consider taking one or more of them down. Modern home design provides a more open concept, with large living areas that flow from space to space. Simply removing a wall between the kitchen and dining room, for example, can make your rental feel more open and modern inside.
Upgrade Cabinet Hardware and Faucets. In the kitchen, an inexpensive upgrade that can significantly modernize the room is to replace cabinet hardware and the faucet. Clean, bright, new hardware in the space can make a great difference in the look and feel of the kitchen.
Remove Popcorn Ceilings. If your rental property does have popcorn ceilings, consider getting rid of them. Popcorn ceilings were popular in the 1970's but now they instantly date a rental home's interior. Utilize a smooth neutral finish on your rental's ceilings instead.
Opt Out of Carpet. One more great choice to modernize an older rental is to replace carpeted floors with hard surface flooring, like tough faux-wood vinyl planks. Vinyl planks are comparatively affordable to carpet and can last 20 years or longer. It can also help interior rooms feel open and airier, which is a hallmark feature of modern design.
Upgrade Outlets and Lights. Undesirable or old-fashioned electrical outlets and light fixtures can make your rental seem outdated. By simply replacing these with new, modern styles, you can optimize the contemporary look of any room. Consider adding outlets that include a USB port to charge digital devices in the kitchen and living room.
New Doors. Updating the doors in your rental is also a good idea for modernizing your property. Your rental's front door is an essential element of your property's curb appeal. Think about replacing an old or outdated door with something new and modern, perhaps in a bright, complementary color. An attractive door can add the welcoming touch your rental needs to remain competitive in today's rental market.
Smart Locks, Thermostat, and More. Finally, today's modern rental homes include a range of smart upgrades, such as smart locks, smart thermostats, and more. These devices can be controlled from a smartphone and can greatly enhance the security and efficiency of any property. Your tenants will enjoy the convenience and savings, and you will embrace the boost in rental rates and property values you'll probably get as a result.
Modernizing your investment property may seem daunting but exploring these tips and tricks with a professional property management company like RPM can breathe new life into an outdated rental home, attracting quality residents, boosting the property value, and maximizing your overall ROI. Contact your local RPM office today to learn more about how RPM can help you meet your goals.
We are pledged to the letter and spirit of U.S. policy for the achievement of equal housing opportunity throughout the Nation. See Equal Housing Opportunity Statement for more information.
Get the Neighborly App
In addition to Real Property Management's expert skills in managing your rental property, you can utilize Neighborly's other brands to maintain and enhance your home. Use the Neighborly App to get connected to local home service professionals. Download and receive offers only available on the App.
Depending on current health and safety regulations in your area, some of the services mentioned in this post may not be available. Neighborly service providers will follow the latest health and safety guidelines provided by the local and state governments. Please check with your local Neighborly service provider for details at the time you need service(s).
Download It Today
Check out these other helpful stories
Get an assessment from your local
Real Property Management
office.