National Property Management Franchise Wins Again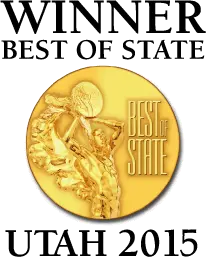 We at Real Property Management, the nation's leading full-service property management franchise, are proud to announce we were recently named among top Utah companies as Best of State for its excellence, innovation and outstanding business services. The national franchise also earned the 2015 Utah Excellence Award by the U.S. Commerce & Trade Research Institute.
The Best of State awards recognize outstanding individuals, businesses and organizations in Utah and are a measure of the overall excellence, superiority and quality of a nominee's products, services or performance. Nominees are also judged on creativity and contributions to improve the quality of life throughout the community and state.
"The Utah franchise owners are very proud of receiving the 2015 Best of State award," says Tom Wood, owner of Real Property Management Southern Utah in St. George. "All ten offices, from Logan to St George, share the same goal of providing excellent customer service and expertise, and work together for the ultimate in professionalism."
In addition to these awards, Real Property Management was named one of Utah's Fastest Growing Companies by MountainWest Capital Network last fall. The Utah 100 list is comprised of innovative businesses throughout the state and across multiple industries that have had successful annual revenue growth.
"We are honored to be recognized as business leaders in our home state of Utah," said Don Lawby, President of Property Management Business Solutions, the franchisor of Real Property Management. "These awards reflect the significant milestones we have achieved in recent years and the ongoing successes our team continues to celebrate."
Real Property Management is the leading property management franchise in the nation with more than 260 offices in 45 states. The company specializes in managing single-family homes, townhomes, condos, multiplexes and small apartment buildings. Its services include finding and screening tenants, completing the lease agreements, collecting rent, maintaining the building and grounds, arranging for any necessary repairs on a 24-hour basis, and processing evictions when necessary. Real Property Management also manages the legal compliance for both state and federal real estate law.
Real Property Management was also recently named to Entrepreneur magazine's 36th annual Franchise 500, ranking No. 1 in the property management category and No. 148 overall. The Franchise 500 acknowledges top companies for outstanding performance in areas including financial strength and stability, growth rate and size of the franchise system.
We are pledged to the letter and spirit of U.S. policy for the achievement of equal housing opportunity throughout the Nation. See Equal Housing Opportunity Statement for more information.
Get the Neighborly App
In addition to Real Property Management's expert skills in managing your rental property, you can utilize Neighborly's other brands to maintain and enhance your home. Use the Neighborly App to get connected to local home service professionals. Download and receive offers only available on the App.
Depending on current health and safety regulations in your area, some of the services mentioned in this post may not be available. Neighborly service providers will follow the latest health and safety guidelines provided by the local and state governments. Please check with your local Neighborly service provider for details at the time you need service(s).
Download It Today
Check out these other helpful stories
Get an assessment from your local
Real Property Management
office.