Property Manager's Approach to Serving Clients
Anthony Giannini, owner of Real Property Management Suburban Chicago, recently shared his thoughts about customer service and how he takes care of his clients, including Gail Bedard who was recently featured in this article, Real Property Management Relieves a Caretaker's Stress.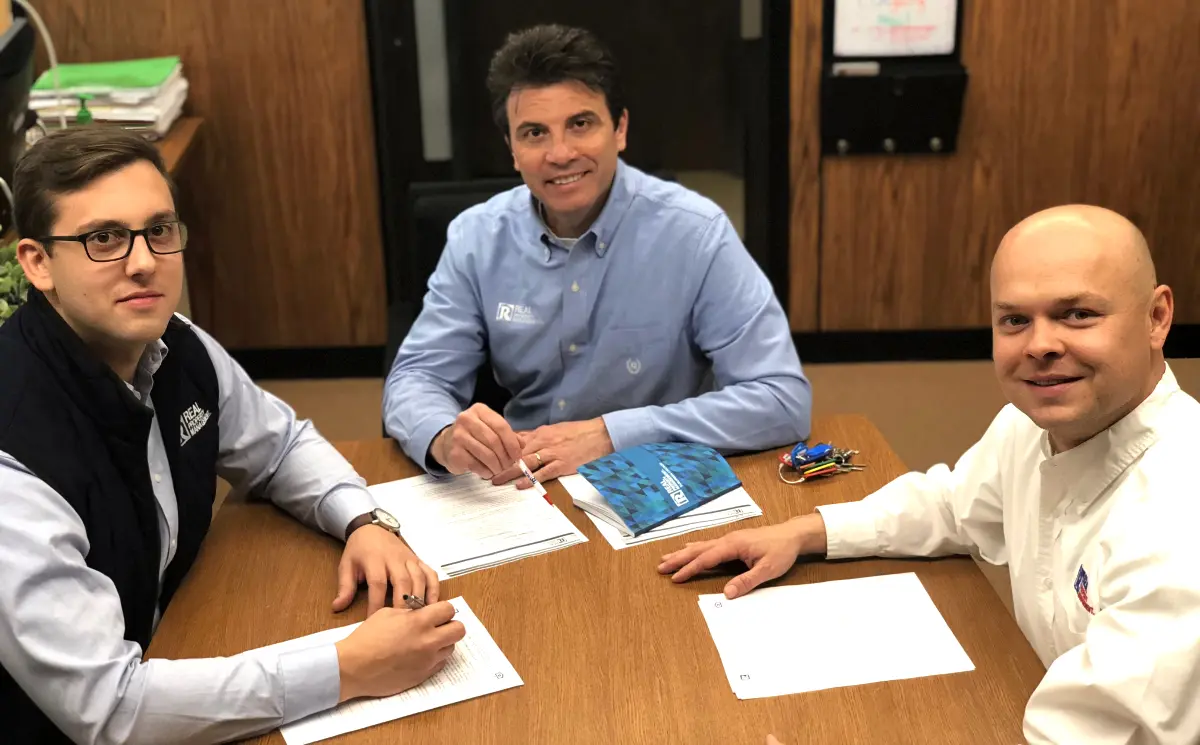 Real Property Management Suburban Chicago Franchise owner Anthony Giannini (center) with team members Mark Palilunas (left) and Daniel Bartnicki (right)
"My approach, as well as the approach followed by everyone at Real Property Management Suburban Chicago is, prior to meeting with a new prospective client, to prepare, prepare, prepare. I like to learn as much as I can about the property from its location and its value to the story behind it. Every property has a story and I learn as much as possible about it so that I can advise owners in managing their property to its full potential. When meeting with new prospects I listen closely and keep quiet, so I can fully understand their needs and wants. I focus on them, and always have a positive attitude."
Anthony says that being a property manager is in his blood. "I grew up in a family that always had an investment property. My weekends growing up were spent cleaning and painting apartments, and my dad would bring me along as his helper for making repairs and collecting rent." "The message I try to convey to owners is security in knowing I am the one responsible for their property. I am comfortable saying that because I have an army of support from my office and the entire Real Property Management franchise organization. I have all the resources to handle anything that can come up. Our office is set up to work as a team. Property managers work well with office admins and we all help and trust each other. When you have that kind of working environment you have the confidence to be responsible and successful."
"After an owner signs an agreement with us to manage their property, we keep them informed on issues pertaining to their property and update them on progress. I always have a plan of action to save time and keep owners at ease."
Anthony ended the conversation with, "I also follow the Golden Rule in business as well as in life. Gail is one of our nicest owners and made our office realize her condo isn't just another unit in our portfolio. Her condo has a great story, and because we learned about it we are able to take care of it in a way that works for her."
Visit our Real Property Management office locator to locate your nearest independently owned and operated location.
We are pledged to the letter and spirit of U.S. policy for the achievement of equal housing opportunity throughout the Nation. See Equal Housing Opportunity Statement for more information.
Get the Neighborly App
In addition to Real Property Management's expert skills in managing your rental property, you can utilize Neighborly's other brands to maintain and enhance your home. Use the Neighborly App to get connected to local home service professionals. Download and receive offers only available on the App.
Depending on current health and safety regulations in your area, some of the services mentioned in this post may not be available. Neighborly service providers will follow the latest health and safety guidelines provided by the local and state governments. Please check with your local Neighborly service provider for details at the time you need service(s).
Download It Today
Check out these other helpful stories
Get an assessment from your local
Real Property Management
office.