Real Property Management Offers Last Minute DIY Gift Ideas
Between all the shopping, wrapping, cooking, and parties during the holiday season, some names on your gift list could slip between the cracks. Don't worry! Real Property Management has some easy, last-minute DIY gift ideas for everyone on your list that are both unique and easy on the wallet.
Movie Night Package: Pick up some movie gift certificates, popcorn, candies, and anything else that screams "movie night" and pack it all up into an oversize popcorn box or bucket for the perfect movie kit. Swap the movie tickets for DVDs or a night of Netflix and enjoy movie night at home.
Foodie Favorites
Foodie Favorites: For an easy gift that's sure to please anyone on your list, try a themed food basket. For the grilling enthusiast, including BBQ tools, sauces, and an apron. Sports lover on your list? Pack game day drinks and snacks, like popcorn, nuts, salami, and soda. Throw in a homemade coupon good for an entire day of football watching for a personal touch!
The Gift of Relaxation: For the hard worker who deserves to be pampered, give the gift of relaxation! As an alternative to a regular gift certificate to the spa for a massage, you can make your own gift certificates good for a back rub, foot rub, or just an hour of quiet. DIY gift certificates for a free night from chores or offering to cook dinner are always appreciated as well.
Warm Me Up: Enjoy the perfect cozy day with a gift pack full of warm beverages – hot cocoas, teas, coffees – with all the fixings like marshmallows and honey. Add in some novels, magazines, or even a gift card to download an ebook for the perfect cuddle up kit!
DIY for Craft Lovers
Coasters
Photo Coasters: Looking for a gift that's thoughtful and frugal? All you need is a few ceramic tiles from a local home improvement store, printed pictures, and some craft glue to turn your favorite photos into beautiful coasters. Gloss the ceramic surface with craft glue-like, Mod Podge, stick the picture on and gloss again for a unique decorative coaster. You can expect the cost for each to be less than $5, and the thought that goes into them? Priceless.
Coffee Syrup Set: Know a coffee lover? Chances are, yes. For a useful gift she will appreciate, try a simple homemade coffee syrup set. There are plenty of online recipes for creating raspberry, vanilla and caramel simple syrups she can add to her morning cup-o-joe. Gift them in classic jam jars for a cute presentation she will proudly display.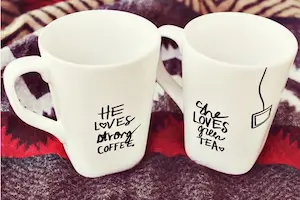 Sharpie Mugs!
Sharpie Mugs Turn a regular cup-o-joe into a personalized treat with the flick of a Sharpie. All you need is a white coffee cup, a black Sharpie and an oven to create a cup with a personal message or design. Make sure you bake your mug in the oven to keep your creation permanent. Follow these easy steps to create a dishwasher-proof personalized mug perfect for mom, dad, grandma, or grandpa!
Homemade Recipe Book: For a thoughtful way to store favorite recipes, try this guide to creating a homemade recipe book. A personalized recipe book is a great gift for those who love to cook, want to learn how to cook, or just like to try something new every once in a while! This makes for a great gift for those who just moved into a new place or newlyweds too.
We are pledged to the letter and spirit of U.S. policy for the achievement of equal housing opportunity throughout the Nation. See Equal Housing Opportunity Statement for more information.
Get the Neighborly App
In addition to Real Property Management's expert skills in managing your rental property, you can utilize Neighborly's other brands to maintain and enhance your home. Use the Neighborly App to get connected to local home service professionals. Download and receive offers only available on the App.
Depending on current health and safety regulations in your area, some of the services mentioned in this post may not be available. Neighborly service providers will follow the latest health and safety guidelines provided by the local and state governments. Please check with your local Neighborly service provider for details at the time you need service(s).
Download It Today
Check out these other helpful stories
Get an assessment from your local
Real Property Management
office.