Rental Rates Rise Over 3% Since Last Quarter
Rental Rates Growth Continues to Outpace Inflation
The Real Property Management system and RentRange, the nation's leading provider of Rental Market Intelligence™, released their quarterly rental statistics, which show rental rates are rising more rapidly than the U.S. inflation rates. During the second quarter of 2015, the companies found that the average monthly rent for single-family homes now exceeds $1,320, up 3.3 percent since just last quarter and representing a 6.1 percent year-over-year increase. In comparison, the consumer price index grew by .2%. The rental market data was limited to three-bedroom single-family homes in the U.S. Rental rates were up in all 10 regions analyzed. The Pacific and Northeast regions saw double digit increases in rental rates, with 11.8 percent and 11 percent year-over-year increases, respectively. The Mid-Atlantic and South-Atlantic regions showed the lowest increases with 3.1 percent and 5.2 percent increases, though the Mid-Atlantic has rental rates well above the national average, at $1,642.
Rental Rates and Year-over-Year Increases of 10 U.S. Regions through the Second Quarter 2015
| | | |
| --- | --- | --- |
| REGION | Median 3 BR rent ($) | Y-o-Y Change in 3BR rent |
| Pacific | 1579 | 11.8% |
| Northeast | 1763 | 11.0% |
| Southwest | 996 | 5.8% |
| Southeast | 985 | 7.1% |
| Texas | 1294 | 8.9% |
| California | 1956 | 5.7% |
| Mountain | 1245 | 5.8% |
| Midwest | 1023 | 5.3% |
| South-Atlantic | 1257 | 5.2% |
| Mid-Atlantic | 1642 | 3.1% |
Rent increases have been accompanied by reductions in vacancy rates – the percentage of homes considered unoccupied across the U.S. The national rate fell to 5.46 percent through June, down .12 percent from a year ago. The Midwest region had the highest vacancy rate at 6.88 percent, while Texas was the lowest at 3.43 percent. The report also analyzed rental saturation rate across the country, showing that it continues to climb and is now at 25.4 percent, compared to 23.9 percent last year. Rental saturation is the estimated percentage of rented single-family homes as a share of all single-family homes. As leaders in the rental housing industry, Real Property Management and RentRange have an ongoing strategic business relationship. Real Property Management relies on RentRange's proprietary rental housing data to provide its landlord customers with accurate, current information about local rental properties and rental markets.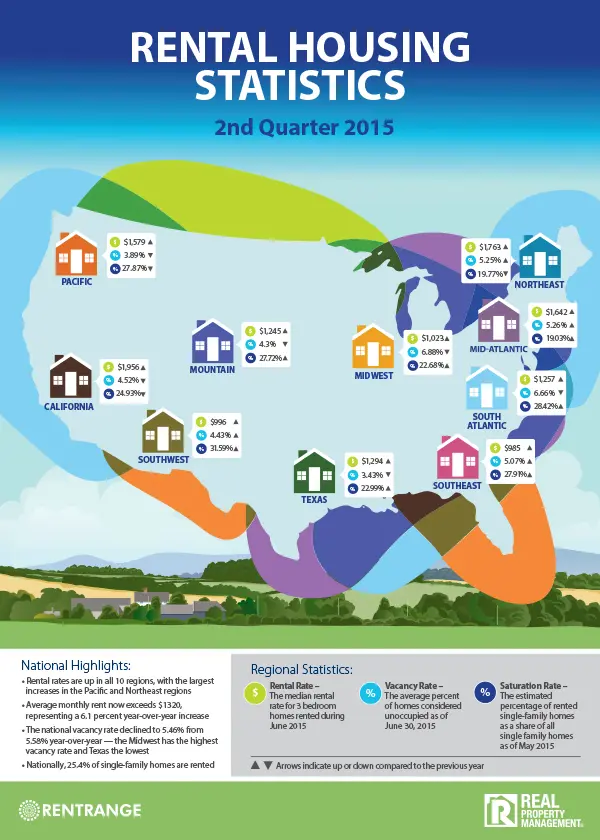 We are pledged to the letter and spirit of U.S. policy for the achievement of equal housing opportunity throughout the Nation. See Equal Housing Opportunity Statement for more information.
Get the Neighborly App
In addition to Real Property Management's expert skills in managing your rental property, you can utilize Neighborly's other brands to maintain and enhance your home. Use the Neighborly App to get connected to local home service professionals. Download and receive offers only available on the App.
Depending on current health and safety regulations in your area, some of the services mentioned in this post may not be available. Neighborly service providers will follow the latest health and safety guidelines provided by the local and state governments. Please check with your local Neighborly service provider for details at the time you need service(s).
Download It Today
Check out these other helpful stories
Get an assessment from your local
Real Property Management
office.