Severe Weather: Are You Prepared for the Worst?
Spring is an exciting time of year… The flowers bloom, the grass turns green, the temperature warms up, but the weather also can be pretty exciting. In many parts of the country, spring weather can even be dangerous. The majority of the Midwest and southern regions brace themselves between March and June every time the clouds turn gray. High winds, large hail, flash floods, and tornadoes cause the most damage in these regions, ripping apart roofs, breaking windows, knocking down fences, and worst case scenario destroying the entire home. As a homeowner, you want to insure you have the right coverage to protect your home in a disaster, but are you just as prepared if you are a landlord? Do you know what your responsibilities are to your tenants if a natural disaster occurs?
Landlord-tenant laws will vary state-to-state and sometimes even between counties but most state that all rental homes must provide basic essentials including electricity, water, heat, plumbing, weatherproofing, and a structurally safe and sanitary environment. If a rental home fails to meet these standards, a tenant is under no obligation to stay in the home and can even terminate the lease. This added financial strain to the already stressful situation can send any landlord over the edge. The best way to handle this worse-case scenario is to plan ahead. Not all homeowners insurance is created equal and will often only cover owner-occupied homes, so make a point to re-examine your policy.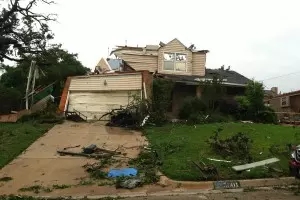 On the other-hand, if only minor damage occurs to the home and all the basic needs are met, the tenant is still responsible for upholding their lease agreement; however, the landlord must make any repairs needed in a reasonable amount of time. For landlords who are very busy or live out of state, this can create more problems. Taking time off of work to assess your property for needed repairs can only add to your expenses and unhappy tenants waiting for those needed repairs will only cause strain on the tenant-landlord relationship.
Real Property Management, the leader in residential property management, can not only assist you in finding the right insurance coverage for your home, we are there to document the situation for insurance adjusters, assess and repair any damages, take care of tenant related problems, and get your home back to the way it was and give you peace of mind. Disaster can strike at any moment, but at Real Property Management, our job is to make your life easier by taking care of your investment. You may not be able to trust the weather, but you can trust Real Property Management.
We are pledged to the letter and spirit of U.S. policy for the achievement of equal housing opportunity throughout the Nation. See Equal Housing Opportunity Statement for more information.
Get the Neighborly App
In addition to Real Property Management's expert skills in managing your rental property, you can utilize Neighborly's other brands to maintain and enhance your home. Use the Neighborly App to get connected to local home service professionals. Download and receive offers only available on the App.
Depending on current health and safety regulations in your area, some of the services mentioned in this post may not be available. Neighborly service providers will follow the latest health and safety guidelines provided by the local and state governments. Please check with your local Neighborly service provider for details at the time you need service(s).
Download It Today
Check out these other helpful stories
Get an assessment from your local
Real Property Management
office.