Tech Gadgets in Property Management: SkyBell Video Doorbell
Technology in property management?
Not exactly two terms you would normally put together but with some recent new tech gadgets in property management, things are changing!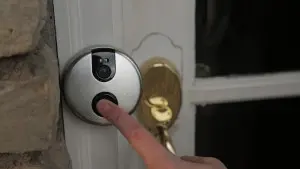 With significant increases in violent crime in America's largest cities, new technology can make tenants feel more secure about their surroundings as well as protecting property managers and investors. The SkyBell is a smart video doorbell that allows you to see, hear, and speak to a visitor at your door whether you're at home or away. When a visitor presses the button on SkyBell, everyone who has an approved mobile device will simultaneously receive an alert that somebody is at the door and they've activated the Skybell. If you accept the alert, SkyBell's video camera will send a live video feed to your smartphone so you can see, hear and even speak to the person at your door.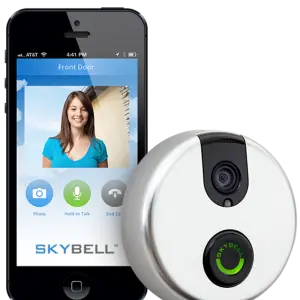 Skybell works on most iPhones, iPads, and even Android devices. Skybell alerts and video phone conversations can take place literally anywhere. Users don't have to be in the property to respond to a Skybell alert, they can be at the property management office or perhaps in a different country. As long as a user has internet access and a mobile device they can communicate directly with someone in front of the property's door. Other benefits of utilizing a Skybell in front of a property include motion sensor activated functionality. Simply put – this means that if someone activates a motion sensor in front of a Skybell you'll receive an alert and video feed if someone is at your door for more than 10 seconds. You can also start the audio and video feed from your SkyBell by opening the app and activating the "on-demand" feature. While theft of the Skybell is extremely unlikely the company offers a theft replacement guarantee. If your device is stolen Skybell will replace your device free of charge. As we think about the future of property management, protecting investments and human lives is critical to continued success in the industry. At a price point of $199.00, this technology isn't always practical for a property manager to install for all their properties; however, for high value properties or tenants that are willing to pay more for an additional level of security, this device can be the right technology at the right price.
Do you think SkyBell would bring value to your rental property?
We are pledged to the letter and spirit of U.S. policy for the achievement of equal housing opportunity throughout the Nation. See Equal Housing Opportunity Statement for more information.
Get the Neighborly App
In addition to Real Property Management's expert skills in managing your rental property, you can utilize Neighborly's other brands to maintain and enhance your home. Use the Neighborly App to get connected to local home service professionals. Download and receive offers only available on the App.
Depending on current health and safety regulations in your area, some of the services mentioned in this post may not be available. Neighborly service providers will follow the latest health and safety guidelines provided by the local and state governments. Please check with your local Neighborly service provider for details at the time you need service(s).
Download It Today
Check out these other helpful stories
Get an assessment from your local
Real Property Management
office.