Tenant Background Checks Infographic
When do-it-yourself (DIY) landlords do leasing without proper tenant background checks, including criminal check, income verification, and previous landlord references, entire neighborhoods might be put at risk, as can the landlord and the property itself.
A recent survey by Liminality, Inc., an independent research firm, 150 DIY landlords showed that DIY landlords are much less stringent on tenant background checks, and may not even perform them at all. The result is an increase in the chances of criminals being put in a rental home. The below infographic provides details.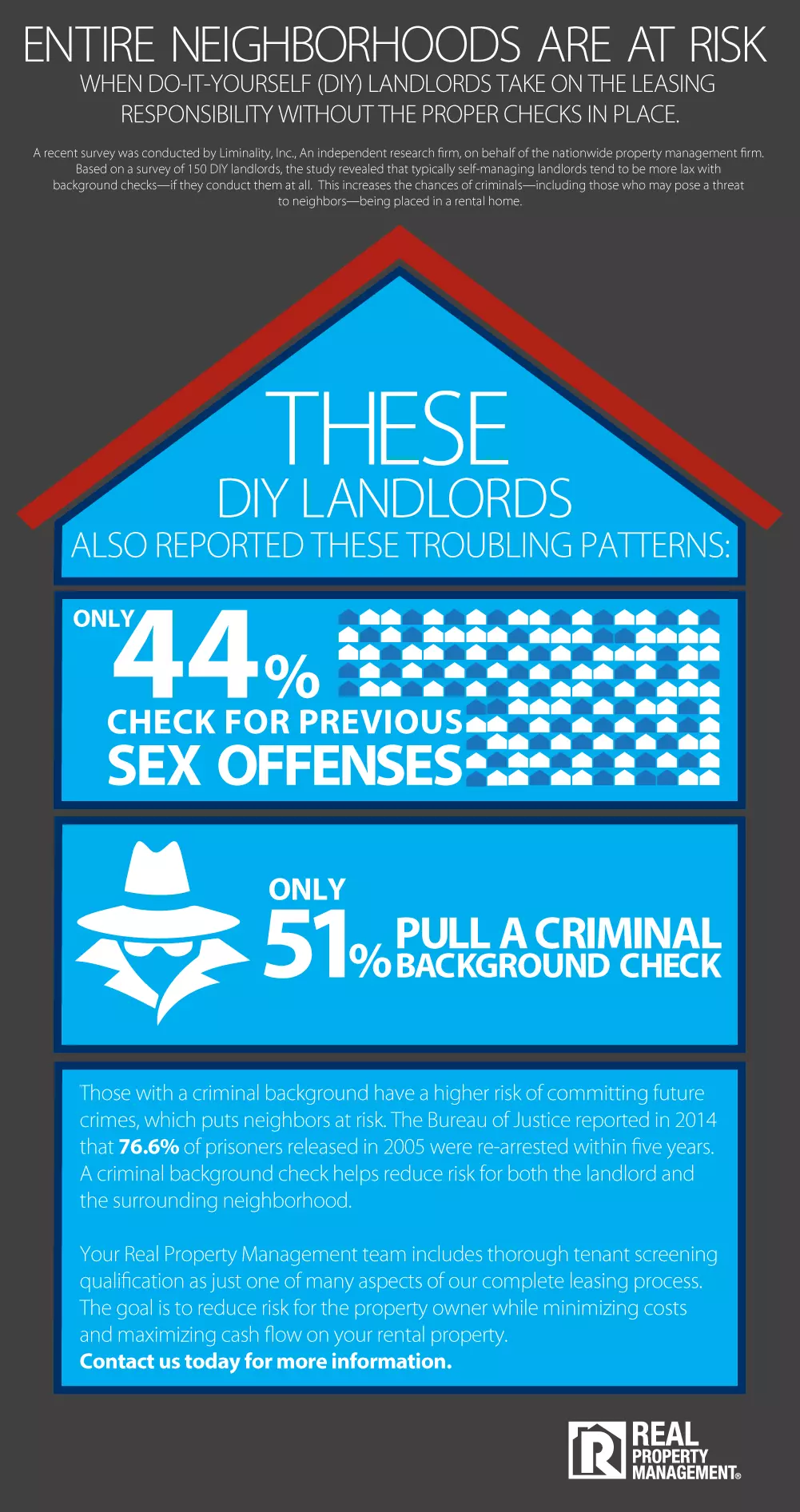 People with criminal backgrounds possess an increased risk of committing additional crimes, and this will place neighbors to the rental property at risk. As such, criminal background checks on tenants will assist in lowering the risk not only for the landlord and his/her investment, but also for the area neighbors. Because of this, Real Property Management offices perform strict tenant background checks. Policies exist so that all tenants must complete an application, as well as agree to a full background check, including credit history, employment history, previous rentals, and criminal/sex offender checks, performed in compliance with local, state, and federal regulations*. Please check with your local legal counsel on local, state, and federal laws and ordinances. Backed by 30+ years of experience, Real Property Management is the leading residential property management provider across the United States, providing professional management on behalf of homeowners, investors and institutions throughout the country.
We are pledged to the letter and spirit of U.S. policy for the achievement of equal housing opportunity throughout the Nation. See Equal Housing Opportunity Statement for more information.
Get the Neighborly App
In addition to Real Property Management's expert skills in managing your rental property, you can utilize Neighborly's other brands to maintain and enhance your home. Use the Neighborly App to get connected to local home service professionals. Download and receive offers only available on the App.
Depending on current health and safety regulations in your area, some of the services mentioned in this post may not be available. Neighborly service providers will follow the latest health and safety guidelines provided by the local and state governments. Please check with your local Neighborly service provider for details at the time you need service(s).
Download It Today
Check out these other helpful stories
Get an assessment from your local
Real Property Management
office.