Top Franchise for Veterans
Real Property Management System Named a Top Franchise for Veterans
National Property Management Franchise Recognized by Military Times for its Commitment to Veteran Franchisees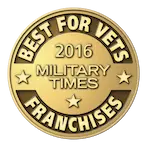 Real Property Management, the nation's leading property management organization, was recently named to the 2016 Best for Vets: Franchises Rankings by Military Times. The Military Times Best for Vets program acknowledges the best franchise opportunities for veterans based on an assessment of more than 100 questions about company culture, performance of the franchise units, costs associated with franchising, and financial support offered to veteran and active-duty service members and their families.
The Real Property Management franchise offers military veterans a 10 percent discount off the franchise fee, and is a member of the International Franchise Association's VetFran initiative. "We are honored to be recognized as one of the best franchises in the nation for veterans," said Don Lawby, President of Property Management Business Solutions, the franchisor of Real Property Management. "We are grateful for the service veterans have given our country and are committed to supporting America's troops by offering them a fulfilling and profitable business opportunity." Last year, the Real Property Management system was named one of the top 100 franchises for veterans by research firm Franchise Business Review.
The list was revealed in the Veterans & Franchising special report, which highlights the best franchise opportunities for veterans based on veteran franchisee satisfaction. The Real Property Management brand is the leading property management franchise in the nation with more than 260 offices in 44 states. The company specializes in managing single-family homes, townhomes, condos, multiplexes and small apartment buildings. Its services include finding and screening tenants, completing the lease agreements, collecting rent, maintaining the building and grounds, arranging for any necessary repairs, and processing evictions when necessary. Real Property Management offices also manage the legal compliance for both state and federal real estate law.
\
We are pledged to the letter and spirit of U.S. policy for the achievement of equal housing opportunity throughout the Nation. See Equal Housing Opportunity Statement for more information.
Get the Neighborly App
In addition to Real Property Management's expert skills in managing your rental property, you can utilize Neighborly's other brands to maintain and enhance your home. Use the Neighborly App to get connected to local home service professionals. Download and receive offers only available on the App.
Depending on current health and safety regulations in your area, some of the services mentioned in this post may not be available. Neighborly service providers will follow the latest health and safety guidelines provided by the local and state governments. Please check with your local Neighborly service provider for details at the time you need service(s).
Download It Today
Check out these other helpful stories
Get an assessment from your local
Real Property Management
office.