Wearable Fitness Tech: Which One is for You?
It's that time of year again isn't it? January brings new hope for many through new beginnings, new promises, and new goals.
The number one New Year's resolution is losing weight and with so many options for wearable fitness tech, we thought we'd help you find the best option for you!
Fitbit has made a name for itself in recent years and has products for every fitness level. From a simple fitness tracker to the all-out performance model, anyone can get motivated with this kind of technology.
Bragi Dash Smart Earphones ($300 Bragi.com)
Designed in Germany, the Dash is a wireless smart earbud that combines a music player, smart phone companion, and fitness tracker all in one wireless product that syncs with a smart phone app.
Withings Activite Watch ($149-$450 Withings.com)
If you don't like the look of a typical fitness tracker, try Withings Activite. This fitness tracker stands out because it looks like a typical watch but has many of the same capabilities as most of the fitness trackers on the market. Bonus: You don't have to charge it!
Fitbit Aria Wi-Fi Smart Scale ($130 Fitbit.com)
OK, so this one isn't wearable tech but it does work with your Fitbit so we threw it in. The Aria smart scale by Fitbit detects body fat percentage, recognizes the user saving all your stats and syncs with your Fitbit device and app. Editor's Note: After writing this article, I decided to go out and buy a Fitbit Charge. According to UPS, it's sitting on my doorstep as I'm posting this to the blog. Wish me luck! :)
Did you invest in wearable tech for 2016? What is your favorite?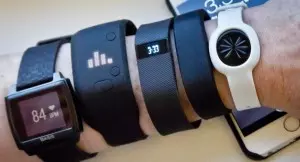 We are pledged to the letter and spirit of U.S. policy for the achievement of equal housing opportunity throughout the Nation. See Equal Housing Opportunity Statement for more information.
Get the Neighborly App
In addition to Real Property Management's expert skills in managing your rental property, you can utilize Neighborly's other brands to maintain and enhance your home. Use the Neighborly App to get connected to local home service professionals. Download and receive offers only available on the App.
Depending on current health and safety regulations in your area, some of the services mentioned in this post may not be available. Neighborly service providers will follow the latest health and safety guidelines provided by the local and state governments. Please check with your local Neighborly service provider for details at the time you need service(s).
Download It Today
Check out these other helpful stories
Get an assessment from your local
Real Property Management
office.