What to do When Your Rental Property Has Bed Bugs
Owner Nightmare: Bedbugs are Inconvenient and Costly
Bed bugs were common globally until the early 1940s when they were mostly eradicated due to the use of DDT. Bedbugs returned when DDT was banned in 1972 and infestation of human habitats has increased since 1995, due to resistance to approved pesticides, increased international travel, high population density, and other factors. Bed bugs in hotels have made headlines lately, but what about bed bugs in rental homes? Kyle Johnson, Manage at Real Property Management Northern Utah, says "Considering how many properties are rented, thankfully bed bugs are a rare occurrence for us."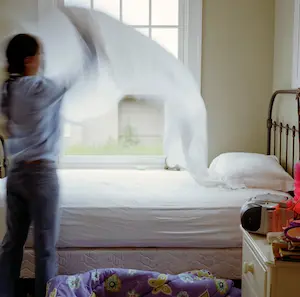 If a bedbug situation arises however, it should be dealt with immediately as bugs can live up to 400 days without a human host. "After a property was vacated following a past eviction," Kyle said, "we sent someone to do initial pest control as there were signs of roaches, and an infestation of bed bugs was discovered as well. We discussed the situation with the property owner and had a full treatment performed which included holes drilled in the baseboards, heat treatment, and thorough cleaning afterward. The property owner was pleased we addressed the situation quickly and professionally." Your Real Property Management team mitigates your risk by being knowledgeable on state and local laws, including health department laws, as well as suggesting qualified pest control companies for preventive maintenance.
Pest control is usually a tenant responsibility, except in multi-family housing or in certain states such as California. If bed bugs are discovered, your property manager should work with you to address the situation quickly to preserve your property while simultaneously following up with the tenants regarding their responsibility.
Keeping the house clean, conducting regular inspections and having a pest control company evaluate your property prior to a tenant moving in can minimize the risks and costs associated with bed bugs and other insects. If bed bugs are discovered, unfortunately it is after the fact. Your Real Property Management team helps manage the process of hiring a qualified pest control company and setting expectations with the residents as the process may require multiple treatments over several months.
Do You Have a Story About Bed Bugs? Tell Us About It!
We are pledged to the letter and spirit of U.S. policy for the achievement of equal housing opportunity throughout the Nation. See Equal Housing Opportunity Statement for more information.
Get the Neighborly App
In addition to Real Property Management's expert skills in managing your rental property, you can utilize Neighborly's other brands to maintain and enhance your home. Use the Neighborly App to get connected to local home service professionals. Download and receive offers only available on the App.
Depending on current health and safety regulations in your area, some of the services mentioned in this post may not be available. Neighborly service providers will follow the latest health and safety guidelines provided by the local and state governments. Please check with your local Neighborly service provider for details at the time you need service(s).
Download It Today
Check out these other helpful stories
Get an assessment from your local
Real Property Management
office.