Real Property Management Relieves a Caregiver's Stress
Being a gymnastics judge for nearly 40 years, Gail Bedard admits she has high expectations and can be very discerning. When it comes to management of her rental property though, her expectations have been far exceeded at every turn. As with many rental homes, Gail's property begins with a family story. As the only girl and being quite a few years younger than her two brothers, she says she was privileged and had many opportunities her parents provided.
Gail said, "One of my brothers was born educably handicapped (couldn't read or write) and lived with my parents for his entire life until my parents died. He couldn't take care of my parents' house, so I found him a condo to live in. Since 1989 I took care of him and his home for 17 years until his death."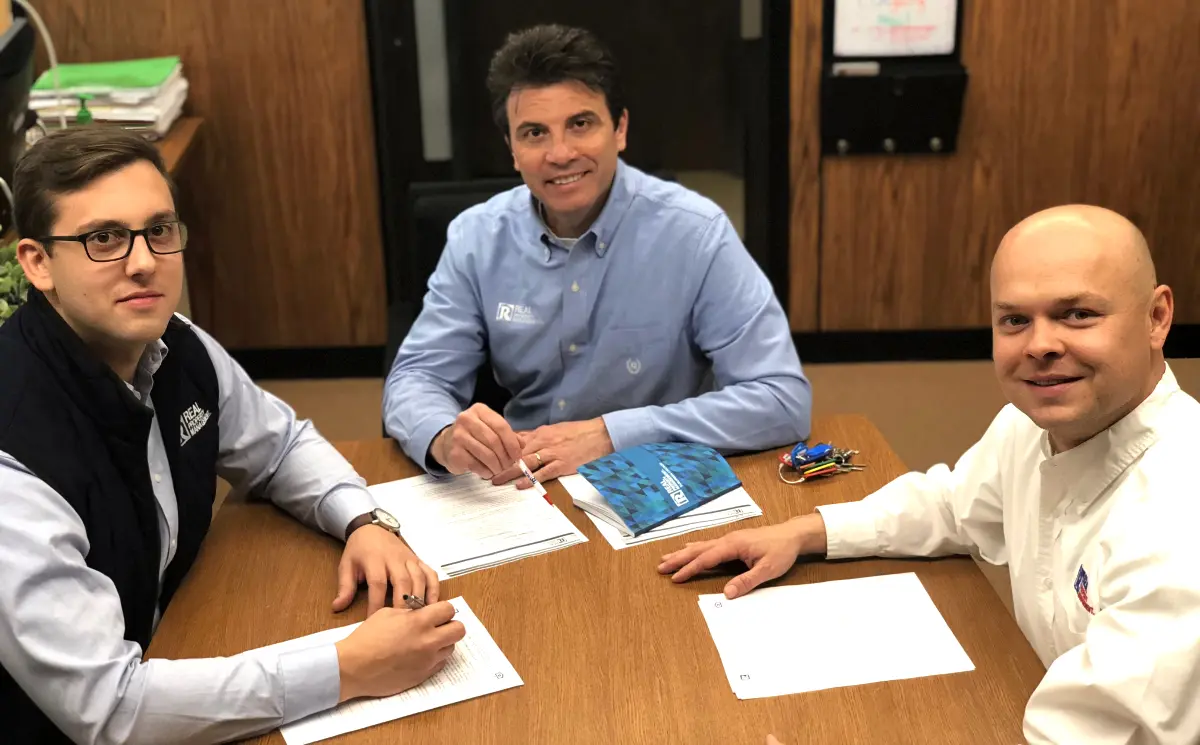 Real Property Management Suburban Chicago Franchise owner Anthony Giannini (center) with team members Mark Palilunas (left) and Daniel Bartnicki (right)
When Gail's brother died she considered selling the condo, but decided to keep it and rent it out. She handled all the maintenance and tenant issues, but it became too much work and not worth her time or stress. "I didn't really know property management existed for rental homes or what It entailed. I thought it was only for managing complexes, not individual homes. I searched property management companies, and saw a listing right in Franklin Park near my property. Anthony Giannini called me back right away. He was courteous and professional, and said don't worry, we can handle this, this is what we do. When he said don't worry, I thought, I want some of that. I just relaxed on the spot and thought, this is too good to be true."
Read more about Anthony's approach on serving clients.
Gail said she was kind of apprehensive to hand over the keys, and said she asked some ridiculous questions. "I would call Anthony and ask him questions, and he'd say we've got it covered. He is always calm, positive, and reassuring and he knows what he's doing. When I asked about an inappropriate question, he let me know we can't ask that due to laws. He is a very fine person and is very good at what he does."
When Real Property Management Suburban Chicago started managing the condo, they shared a rent assessment with Gail.
Gail said, "I was charging a certain amount per month, and not in contact with others renting in that area, and found out I was way too low." "I had made some updates to the property, but Anthony's team made a few more like different locks on the door and other changes to get it in good renting condition. They knew what a rental needed and soon found a great tenant."
Gail truly believes having Real Property Management Suburban Chicago take care of her property changed her life. "It's just like heaven. I feel like I was freed. They handle the maintenance and the tenant issues, and the tenant doesn't even have my phone number which I appreciate." "Anthony works so well with me. He never waivers with his tone, or his professional way that he responds. He is very patient and answers all my questions calmly. Very few people can handle me well, and he handles me very well. Always respectful. The whole team is very nice. They're watching out for my interests, they really are."
"I haven't had to do ANYTHING. They send me a statement every month and communicate anything I should know about. It changed my life. I just relaxed on the spot. I don't have to go over there anymore. A huge relief. A gift." The stress from years of taking care of her brother and his living situations was noticeable to Gail's family members as well. "They were all so glad when I told them Real Property Management takes care of the condo and I don't have to do anything."
Gail ended the interview stating, "I can be very opinionated, and I have never found anything to criticize Anthony and the work his team does. It's like heaven. I give Anthony a 10, and I haven't given out many 10s in my life."
Would you like to learn more about how Real Property Management can reduce your stress levels? Please visit our Real Property Management office locator to find your nearest location.
We are pledged to the letter and spirit of U.S. policy for the achievement of equal housing opportunity throughout the Nation. See Equal Housing Opportunity Statement for more information.
Get the Neighborly App
In addition to Real Property Management's expert skills in managing your rental property, you can utilize Neighborly's other brands to maintain and enhance your home. Use the Neighborly App to get connected to local home service professionals. Download and receive offers only available on the App.
Depending on current health and safety regulations in your area, some of the services mentioned in this post may not be available. Neighborly service providers will follow the latest health and safety guidelines provided by the local and state governments. Please check with your local Neighborly service provider for details at the time you need service(s).
Download It Today
Check out these other helpful stories
Get an assessment from your local
Real Property Management
office.