Women in Business: A Franchise Owner's Story
Women in Business: Beth Hunter, Franchise co-owner of Real Property Management Executives, Greater Atlanta
Beth is the co-owner of Real Property Management Executives Greater Atlanta, part of the national Real Property Management franchise. Real Property Management is a privately held, Utah based corporation with over 25 years of experience providing full-service residential property management for investors and homeowners from more than 260 offices throughout the United States and Canada.
How has your life experience made you the leader you are today?
Growing up, my parents played a large role in shaping me as a leader. They were extremely hard workers and expected the same strong work ethic from me, which constantly pushed me to strive for higher heights and become a better person. They taught me to believe in myself.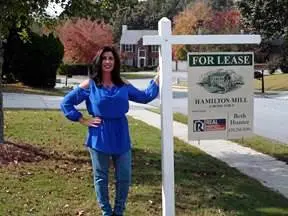 How has your previous employment experience aided your tenure at Real Property Management?
I've gained a lot of experience in the housing industry, having been a realtor since 1996 and a broker since 2001. The in-depth knowledge I gained definitely helped when I became a Real Property Management franchise owner because I understood how the housing market worked and could better assist my clients in maximizing their rental income and preserving the value of their investment. But what I think helped the most from my previous employment was the code of ethics that were instilled in me as a realtor, which included commitments such as treating all parties honestly in any deal. That's helped me gain the trust of my clients, which is so important in the property management industry because people are trusting you to care for their most valuable assets.
What have the highlights and challenges been during your tenure at Real Property Management?
There's no greater feeling and validation for hard work than being referred by a customer or tenant. I really love what I do but sometimes it can be challenging to keep both my property-owning customers and tenants happy. In difficult times, I remember the referrals I receive and they inspire me to roll up my sleeves and work hard to make both tenant and home owner feel fairly represented and hopefully happy.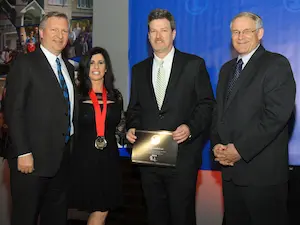 What advice can you offer to women who want to be a franchisee?
I would wholeheartedly tell them to do it, but think it through first. Find out whether the business model is profitable and ask yourself whether you're the entrepreneurial type. When I was scared to death to leave a steady income to open my own Real Property Management office, I was persuaded by the fact that people always told me I should run my own business. At one point in my career, I was an assistant and everyone would always say that I had too aggressive of a personality for that position, was too entrepreneurial, so that helped me ultimately decide that opening a franchise would fit my personality.
What is the most important lesson you've learned in your career to date?
No matter what job I've held, I've realized a key to success is working with people on their level, making them comfortable with you and treating them as you would want to be treated. People do business with people they want to be around, whom they trust, so you have to treat potential customers and business partners as real humans. You can have the best idea or best product in the world but you won't find any takers if they can't relate to you.
How do you maintain a work/life balance?
It's a constant challenge. I've found it really helps to develop hobbies and make sure to carve time for them daily. You don't have to make a huge time commitment either, just enough that it takes your mind off your work, even for a little bit. For example, my hobbies are exercising, knitting and crocheting. Some days I'll come home after a hard day of work and will feel too exhausted to knit, but I convince myself to try it for five minutes. Once I begin, which is sometimes the hardest part, I suddenly feel better, relaxed and can take my mind off my work. I'll actually want to continue!
What do you think is the biggest issue for women in the workplace?
Unfortunately, many women still grapple with sexism in the business world. I've experienced it too. Some men instantly think they know more than I do because I'm a woman. I think that's because people are used to viewing men as the business leaders of the world. However, every woman business or franchise owner who sets up her own shop helps change that mindset, little by little.
How has mentorship made a difference in your professional and personal life?
Mentorship has made all the difference in the world. My business partner, Tim Grizzle, urged me to open the Real Property Management office with him. He helped me understand that we were a great partnership because he had experience owning small businesses and I had real estate experience.
Which other female leaders do you admire and why?
I've always admired Shirley Muldowney, AKA "Cha Cha" or the "First Lady of Drag Racing," growing up. She was one of the first women to dominate the professional auto racing scene and break many barriers in the sport. I basically grew up in a garage, working on cars with my dad since I was 16, so Shirley, the racecar driver, was a natural role model. When I began my professional career, however, I realized that my admiration for Shirley extended beyond her auto racing feats. I looked up to her as someone who had the courage to excel in a man's world, break glass ceilings. As a business owner, and one in a traditionally male-dominated industry such as property management, I find inspiration from Shirley.
What do you want Real Property Management to accomplish in the next year?
So far, we've built my office from managing 0 to 180 properties. In the next year, I would like to continue building on that success and raising awareness of our trustworthy practice in the Atlanta area.
Congratulate Beth on her accomplishment by sharing her story! :)
We are pledged to the letter and spirit of U.S. policy for the achievement of equal housing opportunity throughout the Nation. See Equal Housing Opportunity Statement for more information.
Get the Neighborly App
In addition to Real Property Management's expert skills in managing your rental property, you can utilize Neighborly's other brands to maintain and enhance your home. Use the Neighborly App to get connected to local home service professionals. Download and receive offers only available on the App.
Depending on current health and safety regulations in your area, some of the services mentioned in this post may not be available. Neighborly service providers will follow the latest health and safety guidelines provided by the local and state governments. Please check with your local Neighborly service provider for details at the time you need service(s).
Download It Today
Check out these other helpful stories
Get an assessment from your local
Real Property Management
office.